Join the Key Team in Empowering Students through Catie's Closet's Back-to-School Drive!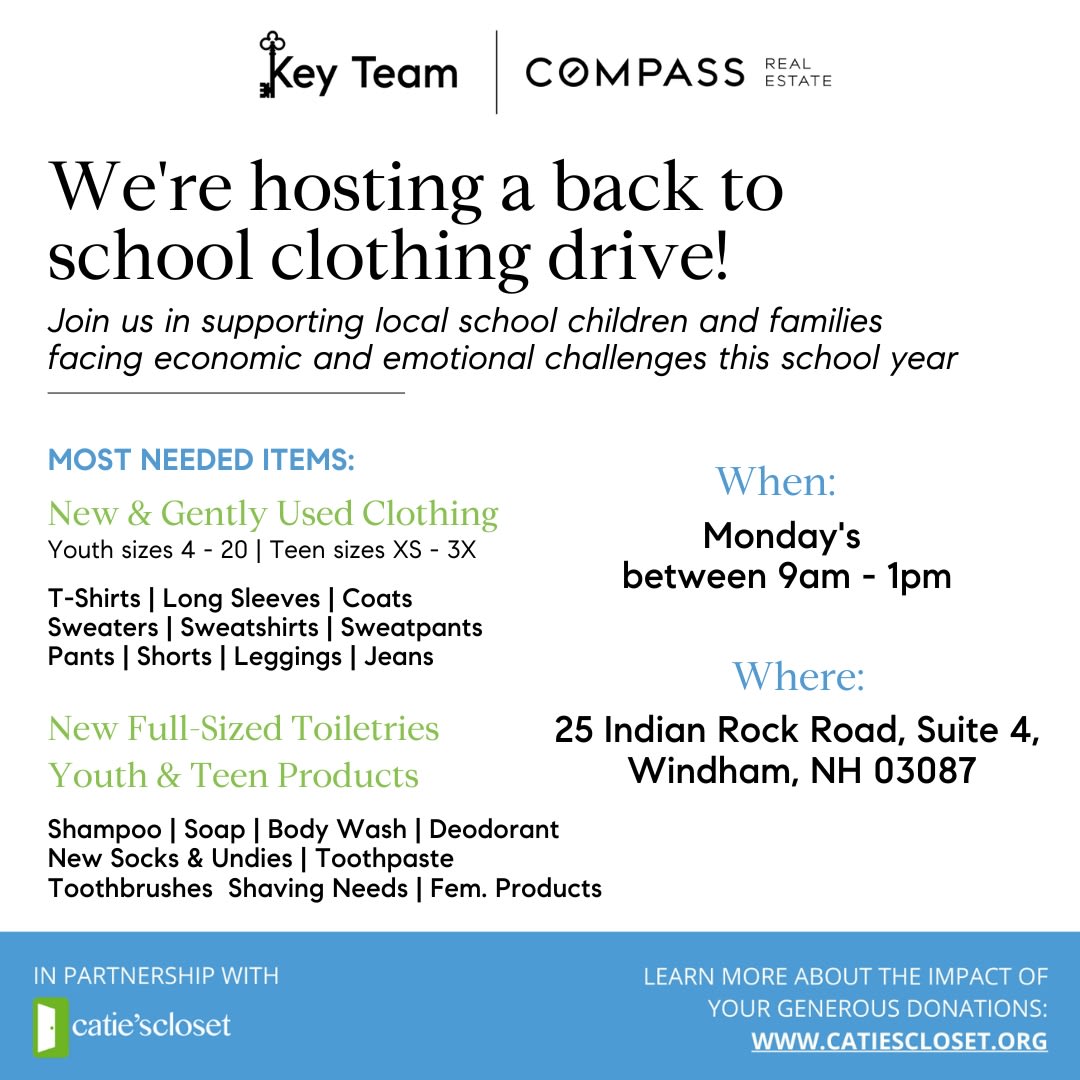 As the summer sun begins to set, a new school year dawns on the horizon. While this season is often filled with excitement and anticipation, it's important to remember that not every child has the same opportunities or access to essential resources. That's why the Key Team at Compass Real Estate is thrilled to announce our partnership with Catie's Closet, a remarkable non-profit organization dedicated to transforming the lives of students in need.
Catie's Closet is a beacon of hope, ensuring that no child faces the challenges of poverty alone. They believe that every student deserves the chance to thrive, regardless of their circumstances. With the Back-to-School season approaching, Catie's Closet has launched their Fill the Bus initiative, aiming to collect a staggering 80,000 items to equip children and teenagers with the tools they need for success.
The Key Team is proud to stand alongside Catie's Closet in this mission. We recognize the power of community and the impact we can create when we unite for a common cause. Together, we can help students start the school year with the confidence and hope they deserve.
How You Can Make a Difference:
Donate New Clothes and Toiletries: Your contribution of new clothes and full-sized toiletries can make a world of difference. Imagine the smile on a child's face when they receive something new and essential.
Urgent Monetary Donations: A $50 donation can go a long way in purchasing urgently needed items. Your support can directly impact a student's life and well-being.
Give Gently Used Items: Clean out your closets and donate gently used clothing items in youth and teen styles. Your pre-loved items can find new purpose and bring joy to another child.
Host a Clothing Drive: Be a catalyst for change in your community. Host a clothing drive and rally your friends, family, and neighbors to contribute to Catie's Closet's cause.
Join the Virtual 5K: Register for the Catie's Closet Every Step of the Way virtual 5K. By participating with a registration fee of $30, you provide a brand-new pair of sneakers to a child in need.
Convenient Ways to Contribute:
We understand the hustle and bustle of life, which is why we've made it convenient for you to show your support. Contact us to schedule a pick-up or drop-off, and our dedicated team will ensure your contributions reach Catie's Closet efficiently.
Drop off address: 25 Indian Rock Road, Windham, NH 03087
Together, let's create a ripple effect of compassion and generosity. Let's ensure that every student walks into the new school year with confidence, knowing that their community believes in their potential. Your support, whether big or small, can make a significant impact on a young life.
Learn more about Catie's Closet and their inspiring mission at catiescloset.org. Join us in illuminating the path for these students, showing them that they are valued and cherished members of our community. Together, we can make this Back-to-School season one of promise, possibility, and positive change.